Archived Antique Tractor Photo Ads
1951 John Deere B
[Previous Pic]
[Main List]
[Next Pic]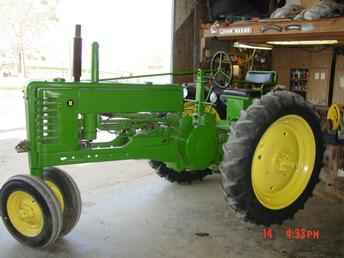 Original Ad: This is a '51 gasoline John Deere B tractor ser. 291851. It has good paint, good front tires, rears matched but aren't worn just sun cracked, PTO rockshaft(it works), rebuilt generator, restored lights, new wiring, UN-cut hood, roll-a-matic. It smokes a little--probably from rings--had motor rebuilt 2 years ago and sat for about 8 months. Now has new hood decals. Starts and runs good, lots or power. 12V system. Can email pictures. Call or email, ask for Tyler. Asking $2000/ OBO.
This item is not currently for sale. You are viewing archived photo ads which have been preserved for historical purposes. Therefore, contact information has been removed. To see current photo ads, click here.
Same-Day Shipping! Most of our stocked parts ship the same day you order (M-F). Expedited shipping available, just call! Most prices for parts and manuals are below our competitors. Compare our super low shipping rates! We've kept the same low rate for six years. We are a Company you can trust and have generous return policies! Shop Online Today or call our friendly sales staff toll free (800) 853-2651. [ More Info ]
Home | Forums
Copyright © 1997-2023 Yesterday's Tractor Co.


All Rights Reserved. Reproduction of any part of this website, including design and content, without written permission is strictly prohibited. Trade Marks and Trade Names contained and used in this Website are those of others, and are used in this Website in a descriptive sense to refer to the products of others.

TRADEMARK DISCLAIMER: Tradenames and Trademarks referred to within these website pages are the property of their respective trademark holders. None of these trademark holders are affiliated with TractorShed.com, our products, or our website nor are we sponsored by them. John Deere and its logos are the registered trademarks of the John Deere Corporation. Agco, Agco Allis, White, Massey Ferguson and their logos are the registered trademarks of AGCO Corporation. Case, Case-IH, Farmall, International Harvester, New Holland and their logos are registered trademarks of CNH Global N.V.